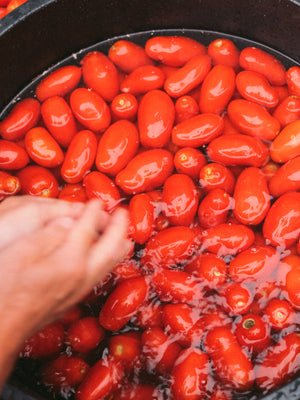 At culasarsa you can taste our family traditions
get your hands on our thick and juicy passata di pomodoro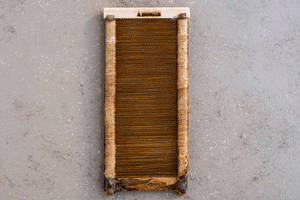 Traditional pasta tools handmade by Italian artisans
Culasarsa, the online mercato that makes cooking sexy
The sex appeal of the Mediterranean
A bright red tanga hangs shamelessly from a washing line. The Mediterranean sun caresses the fabric with its hot tongue. The aroma of freshly made sarsa wafts out from behind the colourful facades, accompanied by a gentle beat from Mina. Sensual. Lust surges through your sun-kissed body.😏
Do you feel it lying on the tip of your tongue? Can you almost taste it? The desire, the lust.🔥 That's the feeling I want to bring to your kitchen.
That is culasarsa.
🍅Order passata '23🍅
Passata
Imagine: a creamy, thick, slightly sweet sauce of deliciously juicy tomatoes caressing your taste buds. The San Marzano tomatoes melt away on your tongue while a drop of sarsa sensually trickles past your lips.👄 Ahhh, Mamma's and my passata. It is our pride and glory and the wet dream of every pasta lover.🥵
Our passata is the ideal partner in crime for your pasta sauces, soups, shakshukas and even Bloody Marys. Extremely versatile and breathtakingly delicious every time. You MUST have (at least) one of these in your pantry.
Yes, I want it!
Love the fact that the package is so personally packed. The extra culasarsa tomato salt is VERY delicious!
There is nothing that I love more than a good homemade tomato sauce! It gives me warm fuzzy cosy feelings inside with a side of italian cravings of summers with pasta, gelato and tiny coffee. And this culasarsa sauce does exactly that!! The perfect Comfort Homemade food on a plate. la vita e bella with Culasarsa! * i must have been italian in a pasta life 😋🤪🍝
Michelle has so much passion and an eye for really good ingredients. And the fact that we can now have these great ingredients in our homes along with great recipes & all the tips is very nice for foodies like us! ❤️
The culasarsa Passata is like fruit juice. Super sweet!
Tastes as good as it looks! 🔥 The Culasarsa passata is super flavorful, just like an Italian tomato sauce should be. You can taste that the tomatoes have matured wonderfully under the Italian sun. Paired with the Sicilian pasta, this is the perfect gift for your foodie BFF.
Have been giving a culasarsa box as a gift to our family and ourselves. Everybody loves it! ❤️
The Caiazzana olives from la Sbecciatrice are just gorgeous! 🤤😋